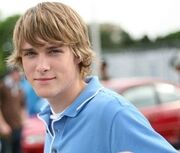 Julian: I'm not a simpleton. There's my stunning and rather charismatic personality, my many skills, and overall, I'm just an amazing person.
Julian Rousseau is a Muggle-born French wizard who attends Beauxbatons. He is currently in his fourth year, and has been sorted into the Prideux. He happens to be a very selfish and self-absorbed person. There are very few people outside of his immediate family that he cares about.
Ad blocker interference detected!
Wikia is a free-to-use site that makes money from advertising. We have a modified experience for viewers using ad blockers

Wikia is not accessible if you've made further modifications. Remove the custom ad blocker rule(s) and the page will load as expected.