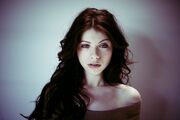 Savannah: I won't get in trouble. No, you see, I'm going to plan this out, and my plan - when I come up with it - will be so full proof that I'll get off scot-free.
Savannah Julie Lerran is a half-blood first year Gryffindor who currently attends Hogwarts School of Witchcraft and Wizardry.
Full Name

Savannah Julie Lerran

Birthday
November 28th
Blood Status
Half-Blood
School
Hogwarts
House & Year
Gryffindor & First
Parents

Julie Lerran

Scott Lerran (deceased)

Wand
Firm, Willow, Phoenix feather, 12 inches
Friends
J.J. Jones
Enemies

Kirsten Cresswell

Joschka Maddox

Pets
Ross (Grey cat)
Relationship Status
Single
Order
Protectores Mundi
Savannah was born on November 28th to Julie and Scott Lerran. Her first few years of life were rather happy, univentful and
First Year
Edit
Friends and Enemies
Edit
Ad blocker interference detected!
Wikia is a free-to-use site that makes money from advertising. We have a modified experience for viewers using ad blockers

Wikia is not accessible if you've made further modifications. Remove the custom ad blocker rule(s) and the page will load as expected.